Platings > Hard Gold plating
Hard Gold plating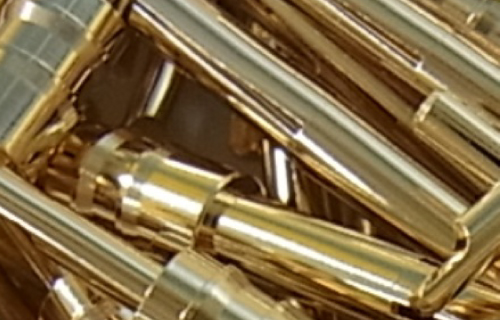 We can provide the wear-resistant gold plating for sliding contact surface. Durability in sliding and insertion and removal is required to the plating for connectors. Our hard gold plating meets this request.
The connector has been using the gold-plating of Hk 150 hardness or more. Hard gold plating deposit is obtained from the plating bath with Ni and Co. Our hard gold plating content is 0.5~1.5wt% of cobalt. Hardness is Hk200~250.
Contact resistance of the hard gold plating deposit is higher than the pure gold plating. Furthermore, we have developed the hard gold plating without cobalt and nickel elements, which cause the metal allergy and the environment trouble.
The hard gold plating is superior in wear resistance, electric conductivity, soldering characteristics and low contact resistance.
Hard gold plating containing cobalt indicates the hardness of several times of the Knoop hardness comparing with the pure gold plating.
Hard gold plating is required particularly in the following components.
・The sliding parts that require conductivity and hardness.
・The slip ring that require conductivity and sliding property.
Therefore Mitsuya has developed ultra-hard gold plating with Knoop hardness between 200-250 and purity of 99.7-99.9% gold.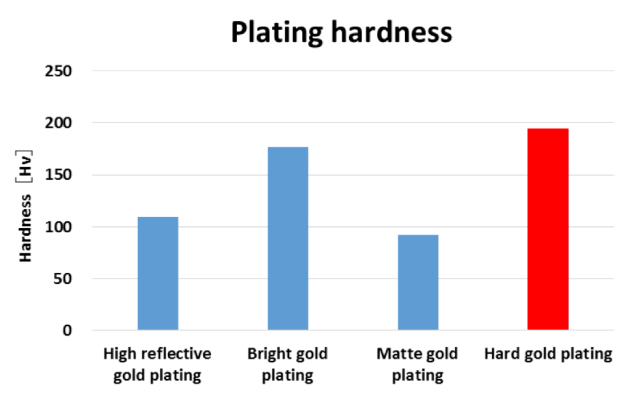 Contact resistance of Bright gold and Hard gold are almost the same
Functional property
Abrasion & Wear Resistant
Low Contact Resistant
High Conductive
Availability details
mass production
yes
process type

※

B,R,M
under plating
Ni
prototype
yes
experimental trial
yes
regular chemical stock
yes
※

B:barrel

R:rack

M:mesh basket

H:reel to reel