Platings > Nickel plating for wire bonding
Nickel plating for wire bonding
Our nickel plating has excellent wire bondability equivalent to aluminum wire. The nickel plating surface is very clean and high activity for wire bonding.
Watt's solution used for general electronic parts and sulfamate solution are available for the plating bath.
The reel-to-reel process is available for the nickel plating method, allowing you to the cost by 85% by this method.
Generally, nickel plating for the wire bonding is deposited by electroless plating, but our developed electro-nickel plating on aluminum for high frequency devices has produced no defect for more than the past ten years.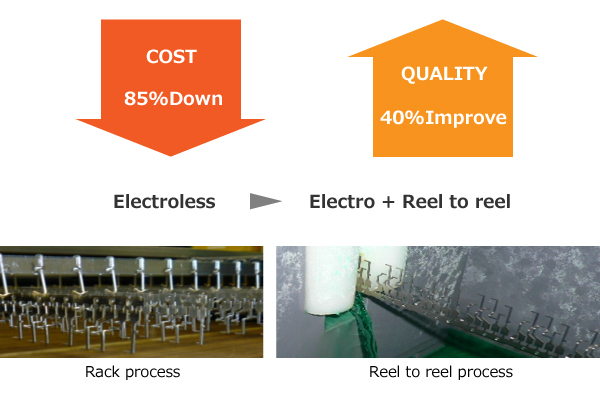 Functional property
Corrosion Resistant
Wire Bondability
Good Bonding & Soldering
Industry employed
Availability details
mass production
yes
process type

※

B,R,M,H
under plating
Cu
prototype
yes
experimental trial
yes
regular chemical stock
yes
※

B:barrel

R:rack

M:mesh basket

H:reel to reel